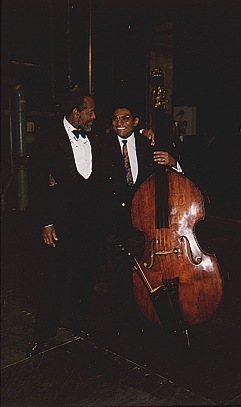 1981: Mexico ( I wrote
composition entitled Teotiuacan after visit to the temples), Brazil , Hawaii and Japan again.
1982: Guadeloupe, Martinique, Jamaica, Europe and the United States. In 1983 I started working with Mr. Jimmy Heath.
Also when Percy Heath could not do the concerts with the Heath Brothers because of his commitments with the Modern Jazz Quartet, I was called
to fill that slot. Jimmy Heath is an excellent composer, arranger and a true dear friend. I have always enjoyed playing his compositions from small group to orchestra and will always "love him madly". I can't say enough about him. I had the fortune to perform with Jimmy in Argentina, Peru, Chile, Uruguay, New York City and
the rest of the United States.