A new release
LE GECKO
Stafford JAMES (bass & compositions)

Don ALIAS (percussion)

Gene JACKSON (drums)

Emil SPANYI (keyboards)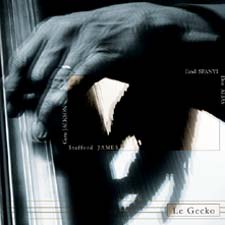 My latest CD entitled "Le Gecko" is one that implies many different things to me as an artist and for what my aims are for the contrabass as a melodic voice of an ensemble. I have heard the nay sayers say that the contrabass is not a melodic instrument and needs to remain in the realm of a support instrument or the argument that things should be left as they are. To both of these points I totally disagree.

In the first instance because very few critics of the instrument truly understand the true heritage. Many could never have fathomed that when Rossini wrote the duet for cello and bass for Dragonetti in 1824 that this could be one of the high water marks for Music for contrabass principally because if one really listens to the music, one can hear a sense of JAZZ phrasing within the written music. Tempos were maintained with the bow as was the case up to the beginning of the 20th century. Some scholars would admit to Dragonetti's influence on Beethoven's 5th Symphony as for when the composer heard him play, he knew that the rhythms in his head could be realized. And it is in this same spirit that I have tried to communicate the rhythmic, harmonic and melodic spirit of the contrabass from the perspective of the lead melodic voice of an ensemble.

Secondly because there is a large number of Bassists that have never had to learn a repertoire other than "Jazz Standards" and functionalism from a pizzicato perspective. This is good and may suffice for certain other instruments but for a truly evolving bassist playing arco, in my humble opinion, the challenges still rest in learning repertoires from other periods of music in order to elevate the prowess of bow control. To perform the musics as diverse as Ariosti, Bach, Mozart, Dragonetti, Bottesini, Brahms, Ravel, Saint-Saens, Satie, Kreisler, Koussevitsky, Ellington, Parker, Davis, Monk, Coltrane, etc.....takes the humility of learning what comes before in order to find one's place to advance forward.