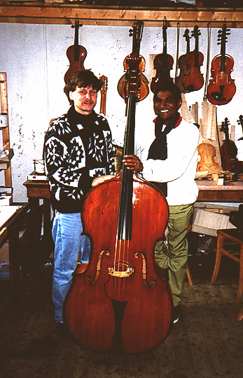 But, when I touched it, I knew that I had finally found the instrument that I was looking for!
Gerald was surprised that I didn't want the Kennedy. I told him that my interest was aimed more towards the "singing" quality of this French instrument
and I knew that once I would have the necessary work done on it, it would be perfect.
I have used this instrument with Jazz groups, The National Ukrainian Symphony, The Congress of Viola d'Amore, as well as numerous other genres and projects.
The instrument was created in Mirecourt, France,
in 1800 and constructed in the Stradivari violin form. It has an excellent projection, arco as well as a very clear pizzicato. Mr. Alain Carbonare, the master luthier of Mirecourt, who also fabricated instruments for Vladimir Spivakov and the Virtuoso Quartet of Moscow, among others, feels that it is one of the cello or violin shaped instruments of Barbé Père - without branded name. Many instruments from this period were signed with crayon which, of course, fades with time.